To my English speaking followers. 
Here are som update about the Norwegian Housing market and some advice how to deal with the market.
The last months we have seen a little bit less increase in housing prices.  Most experts are predicting a flattening of the prices after the summer.  In Oslo the prices have decreased the last months, it seems that they have reached a peak and are heading for a correction.
As the Corona situation is getting better and better and the economy improves, the interest rates will be increased.  That has a great impact on cooling down the housing prices.  Therefore, we can assume that it will be a more buyer friendly market during and over this summer.
You can find more detailed statistics here.
The buying process in Norway is quite special
As told, the bid is binding and there are no regrets.
And the buyer has a lot of responsiblity on his shoulder, by examining all matters within and around the property before the bidding.
This is quite challenging when you do not know the language and the laws and regulations.
Therefore, I wish that you will seek help before you bid on any property in Norway.
Read more about the bidding round and why you should be careful here.
Wish you a very happy summer
With this nice greeting from a recent customer.
"We found you very helpful indeed and your clear advice was immensly calming and good to have. If you need to have anyone, say how good you were, send them to me.
Thank you for the booklet, which we will keep to our side these next months"  S.Rosenthal.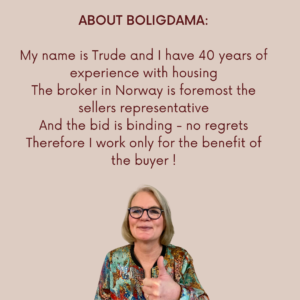 It seems like the Corona situation is calming down here in Norway and we can look forward to at quite normal summer and autumn.
This is really good news.
Please do not hesitate to contact me during the summer if you have any urgents questions.
Take care
Best wishes
Trude Larsen
Boligdama